Integration & automation
on-premise and in the cloud
Boost productivity and profitability through pre-built, reusable integrations and APIs
Modern organizations depend heavily on an increasing array of apps, systems and services to operate efficiently and grow their businesses but sharing data between them is one of the biggest challenges facing IT today.
Why Flowgear?
Flowgear's iPaaS platform (Integration Platform as a Service) enables organizations of all sizes to build powerful Application, Data and API integrations in minutes not months, whether they're in the cloud or on-premise, all from a single interface.
The cloud-based platform significantly lowers the time, cost, and technical skill required to create, edit and manage enterprise-grade integrations.
Flowgear acts as a single interface from which organizations can access all of their data, providing one platform to transform data, build real-time integrations and orchestrate data-based workflows.
The platform has over 200+ pre-built product and technology connectors, API's and workflow templates and is backed by a professional services team and robust service level agreements.
Eliminate the time and cost of developing and maintaining individually hand-coded, point-to-point connections.
Flowgear delivers the agility organizations need to deal with the rapid pace of change associated with cloud-based applications by creating reusable workflows, integrating SaaS applications and automating time-consuming, repetitive processes.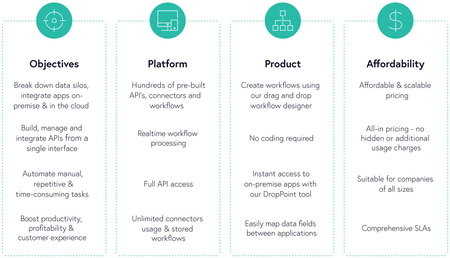 Flowgear offers an enterprise-grade solution with an affordable and scalable subscription model. This enables both medium and large corporations to rapidly implement powerful integration solutions without the need for substantial upfront planning or capital-intensive infrastructure.
WATCH THE DEMO
Sign up for a suitable date and time below