Information Security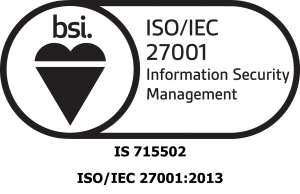 As the risks associated with Cyber attacks and data breaches continue to increase, information security has become critical for every business.
An effective approach should help against both external attack and common internal threats such as accidental breaches and human error.
It was with this in mind when thryve set about attaining ISO27001 certification a years ago.
ISO27001 is the international standard that provides the specification for an information security management system or ISMS. It is a systematic approach consisting of People, Processes and Technology that helps you protect and manage all your organisation's information through risk management.
ISO27001 compliance is verified and audited by independent auditors in a two stage process. During the Stage 1 audit, or the "Documentation Review" audit, the external auditor reviewed thryve's prepared ISMS documentation to ensure that is compliant with the ISO 27001 requirements. Once thryve completed the Stage 1 audit, the external auditor evaluated the fairness and suitability of its information security management, controls, and practices. The auditor then recommended thryve for certification.
thryve supports and implements a range of top business services, including from Salesforce, Riskonnect and Microsoft, as well as thryve's bespoke offerings. thryve's solutions for clients often involve a considerable amount of customer data and maintaining customer system integrity is critical. We've never given our customers a reason to doubt that we handle their systems and information with the utmost care and diligence, but it doesn't hurt to have that capacity officially reinforced and recognised through this certification.